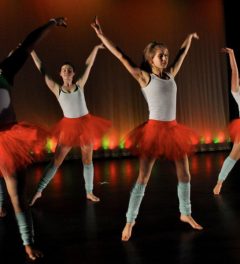 Making the decision to buy a dance floor for your school or touring production is complicated and what you decide is something you will probably have to live with for a long time.
There are lots of new, innovative products on the market, but before you can consider your options, you need to decide whether your new floor should have a matte or a glossy finish. That will impact everything else moving forward.
Matte floors hide scuffs and scratches better, so a floor that will see lots of traffic and might not always be used with really clean shoes is probably the best choice. In addition to traffic on the floor, the wear and tear from installing and rolling up the floor over and over also creates wear marks that are less obvious with a matte finish floor.
If you want to wow an audience, then you can consider a glossy floor. They are reflective, which highlights your performers and they they provide lots of options for making lighting part of your show. Shiny floors are harder to maintain and may not last as long as a floor with a matte finish.